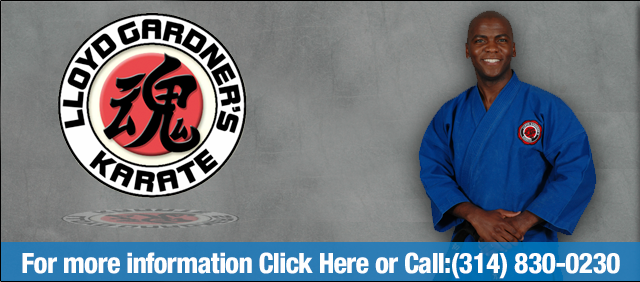 Welcome To Lloyd Gardners Karate & Martial Arts in Florissant
We have provided superior service in the Martial Arts to over 1,000 children and adults in the heart of Florissant, North County, Missouri for over 12 years! Our convenient location makes us easily accessible from the surrounding counties of Hazelwood, Ferguson, Bellefontaine Neighbors, Spanish Lake, Dellwood, and St. Louis County. Lloyd Gardner's Karate embraces the rich diversity of our community which consists of: African-American, Caucasian, Hispanic, Oriental, and Indian-American residents. We bring people of all origins together into a positive, uplifting, and encouraging environment.
How is our school different from the rest?
It is the good relationships that we develop between the Students, the Instructors, and the Parents that make us different. Simply put relationships cannot be duplicated, they are unique bonds that bind people together and create sameness of purpose and goals.
I. What are the qualities that make a great instructor?
1.) Is it tournament achievement? Martial Arts prowess (ability)? Physical fitness and appearance? All of these attributes are important for an instructor, but nothing is more vital than the special relationship created between me, my instructors, and each and everyone of my students.
2.) In a martial arts school the director and instructors are role models for the students, making an intelligible impression that will stay with them their entire lives. Therefore, the greatest quality that a martial arts instructor can posses is the ability to treat each and every student with kindness and respect, acting as a positive role model that will influence the student's life.
3.) As the school owner, I ensure that all of my staff, including myself, are attending to the physical, and emotional needs of each and every student. We provide each student with personal attention, creating a lasting bond that will keep the students coming back for years to come.
II. We Encourage Student Progress through Teaching and Positive Communication
A. Our instructors use positive communications that will make every student feel wanted and respected. When students feel well liked they will have a positive attitude towards the staff, fellow students, and their experience in the martial arts.
B. Team Spirit is reflected in the staff and taught to the students as they work with each other developing a sense of trust and cooperation in working with one another.
C. Our Instructors play a leadership role that is vital to the student's development.
D.Students are surrounded in a positive environment with instructors that take the time and effort to let the student know that they sincerely care about their development.
Enjoy our website, and just as the movie "The Karate Kid" was not only just about kicking and punching, but it was about overcoming bullies by developing a special relationship with a mentor. We want to be that mentor to your child. If you are an adult we want to be that mentor to help you reach your personal goals in fitness, self-defense, confidence, and focus.
Sincerely,
Shihan Lloyd Gardner
Follow Us:


Class Schedule
Our Schedule!
CLICK HERE To Get Schedule!